TRANQUILITY SPAS - HOT TUBS, FOR THE RELAXATION YOU DESERVE.
Now a Proud Authorized Dealer of Tranquility Spas!
Whether you are looking to unwind after a long day, alleviate muscle aches and joint pain or reconnect with family and friends conveniently at home…Tranquility Spas has the perfect hot tub or swim spa for you!  Start your journey to improved health, wellness and relaxation with the finest USA made spas, backed by a warranty you can trust!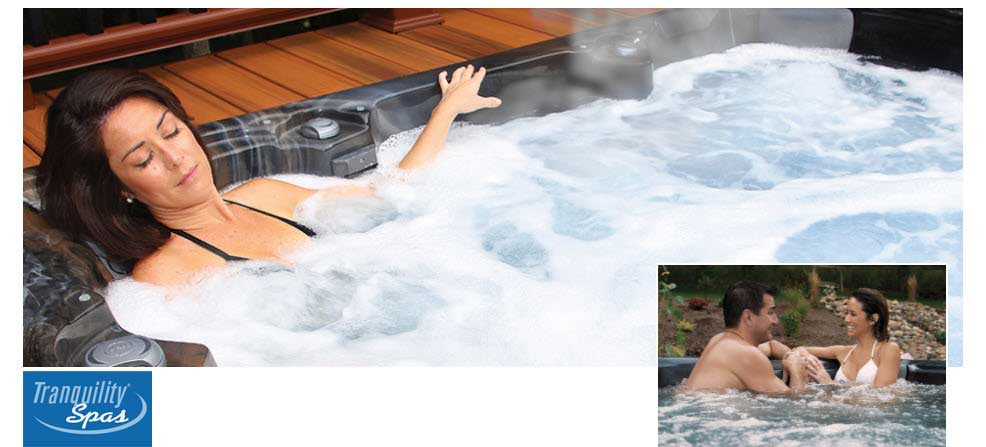 Introduce yourself to relaxation and warm water therapy in the privacy of your own home with a Tranquility Spas hot tub. Every Tranquility Spa is custom built in to deliver exceptional comfort, performance, energy efficiency and longevity. Body contoured seating and targeted massage jets will soothe aches and pains from your neck to your toes and ease stress as you spend quality time with family and friends. Exceeding energy standards by as much as 33% and backed by an unsurpassed 35 year warranty, a Tranquility hot tub has your long-term satisfaction in mind. With unique collections, you'll find the perfect hot tub for your health, wellness and budget.
Indulge Your Senses with Tranquility Spas
Transform your backyard into an outdoor space that will revitalize your home, encourage time with family and friends, and promote health and wellness. Watch your living space expand as you relax in your Tranquility Spas hot tub in any season, built for economical and reliable operation year round.  When surrounded by all the comforts of home, it is easier than ever to treat yourself to rest and relaxation or entertain for a night of fun! When you choose Tranquility Spas, you buy with confidence and own with pride.
Visit our East Brunswick showroom for a demonstration...!
Schedule a Consultation TODAY!
Stardust has been family owned since 1961. Whether you are looking for a new pool or spa, or need pool repairs or renovation we can help.